oficial media Suchbild more
prototype : psychochips für prolo serie 999 label: red woman 2013


informiert mit seinem Hackersender ::Achtung im Prototype Red Woman ist ein verborgenes :
Schlag zuerst zu Chiprelais verborgen, mit dem Modul :
übernimm die Führung zur totalen Machtübernahme .
STAR VON CHIPDEVELOPMENT hielt es geheim:
daß die serienmäßige Herstellung bei Replikanten dadurch gefährlich ist-






















red woman im tunnel modulaktivierung ....)....
inhalt -click: h.h.song MP3 / musik: diana+ cromatic-nach idee+text von c.egerer-:
devotion /cinderella hits ground,stop playing cindy / MP3: richard bartz:ghettoblaster/
love is a dangerous drug/ film-clips ( ab ) / spieler/ personen-/ poster( ab )/
antirot/ dealer/ton (ab ) / film-stab/ vertrieb/ krieg-artillery-töne, explosionssounds ( ab )/
, zarah-song/ level 1990 party / level 1940 apfelstrudel / level 2013 /
überblendung: red woman .. was du wissen willst
RED WOMAN oder SUSI? MP3 download musiker:
sascha brandt und diana: münchen richard bartz: disco B-muc

| | |
| --- | --- |
| red woman in ROT im showtunnel CLIP | red woman mit SCHWARZEN haaren nach der Flucht vom filmset |

Premiere mit hip hop band, im Kino AEROPORT event
( daten:´aktuel´ in www.redwoman.de // Kino ROYAL Monitorleinwand im
Foyer zeigt trailer zwei monate vor start -PLAKATE in
KinoSchaukästen.KINOS SPIELEN VOR UNTERSCHIEDLICHEN
HAUPTFILMEN :KISS OF RED WOMAN MONATE kinos: royal palast
aeroport -cadillac- kino: worms, mainz, kassel, berlin,
frankfurt hamburg , köln , autokino BRD
DER VORFILM ENTSTAND AN REALEN AUSSENDREHORTEN IN
MÜNCHEN-BAYERN-DREHZEIT ,DREHORTE: AIRPORT MÜNCHEN
THERESIENHÖHE S-BAHNSTEIG UND S-BAHNLIFTE


CREW the kiss of red woman | BUCH REGIE PRODUKTION: carla egerer,,
kamera: NATHALIE WIEDEMANN, Kamerassistenz: SEBASTIAN GRUNDT,
Clip-Monitortec+Ton: PATRICK RAITHOFER assi:benedict führmann,
licht: kimberly horton, ,moritz springer,niklas stolzenberg, andy pitz. frisur
+ maske: HEIDI SCHUBECK, Schnitt: carla egerer cuttassistenz::
ROSWITHA BURZAN, HARTWIG WÖLLSTEIN TITEL-SYMPHONY:
FRANK MÜLLER , TITELSTEUERUNG: TOBIAS FORTH,
TITELABFILMUNG : SEBASTIAN GRUNDT, on line : ANSCHANA
, lichtbestimmung: ANDREAS LAUTIL TONÜBERWACHUNG
AVID: CHRISTOPH EBHARDT,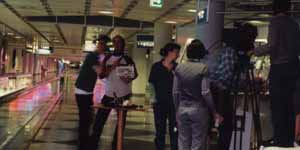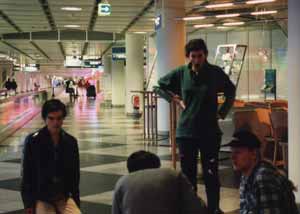 team fotos dreharbeiten MUNICH AIRPORTt ERDING
Im Karatestil befreit sich Red Woman aus den Fängen von Media Pax.
.Red Woman r erfolgreichste Sympathieträgerin des Konzerns, wenn sie
ausbricht und dies Verhalten kopiert wird hätte das katastrophale
Folgen in der Konsumsklavenkolonie.



redwomande

INTERVIEW
memorie
GERMANY truth
song: ( cindy hits ground) motherfuckers make the world of picture + money
SONGS devotion+stop harmony : CROMATIC + DIANA,
text+idee carla egerer surround eff: BJÖRN EICHELBAUM,
fotos : ELLEN GUTOWSKY , MITPRODUZENTEN: PANTHER , GMBH,
GRUPPE 3, KODAK MÜNCHEN, KASSEIR GMBH, NEW HAIR, -
,Bond agentur : Pash streetwear, MP3 FILES: SASCHA BRANDT,
ACID SCOUT, ...youtube..RedWoman